Is Your Business "Ready for Whatever Happens"?
12/30/2019 (Permalink)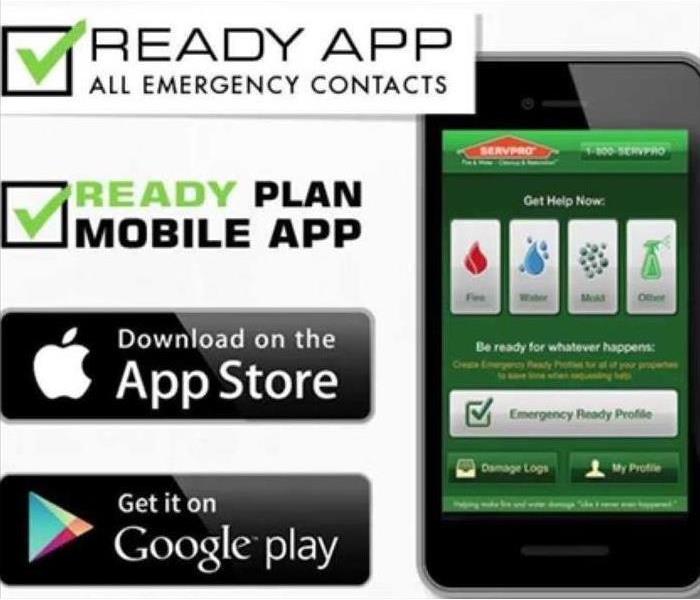 Download the app! Your company's important information and contacts is at your finger tips at all times!
Are You Ready?
The best time to create a disaster plan is NOT while the disaster is happening, but rather well before it happens. Preparedness is a key component for making it through any size disaster, whether it's a small water leak, a large fire or an area flood. The big question for every business owner is "Are you ready for whatever happens?"
SERVPRO Emergency Ready Profile
The SERVPRO® Emergency Ready Profile® is a start-up approach that provides the critical information needed to begin mitigation and recovery services. It is designed to serve as a quick reference of important building and contact information. By teaming up with SERVPRO® for your Emergency Ready Profile, your business can receive the benefit of over 45 years of experience in reducing the impact of any natural or man-made disaster.
SERVPRO Advantage
You can get started building your SERVPRO® Emergency Ready Profile® today! Below is a list of what SERVPRO® has to offer your business:
A No Cost Assessment for Your Facility
There is no need to allocate funds, giving you a great value and peace of mind at no cost.
A Concise Profile Document
This contains only the critical information needed in the event of an emergency.
Only takes a little time to complete and will save you an immense amount of time if ever needed.
This will minimize the amount of time your business is unable to operate by having a plan already in place.
Establishes SERVPRO® as Your Personal Mitigation and Restoration Provider
You have a company of professionals that are recognized in the industry at your side from the moment the disaster occurs to the minute your building is restored to "Like it never happened".
Identification of the Chain of Command
This ensures your company leaders are the ones responsible for authorizing work to begin and the appropriate members of the staff are notified with the status of your restoration project.
Provides Facility Details
Lists shut-off valve/breaker locations, priority areas, and priority contact information.
Having a quick reference of what to do, how to do it, and who to call provides solutions in advance of an emergency so that during the emergency you are "Ready for whatever happens".

Call SERVPRO® of South Pasadena at (281) 472-4162 today get your SERVPRO® Emergency Ready Profile® started, or visit SERVPRO.com/ready.